Channel Leadership Survey - 2019
India is one of the largest and fastest-growing digital markets globally. With digital capabilities improving and connectivity becoming all-pervading, technology is poised to radically change nearly every sector of India's economy, owing to which the country is fast emerging as a rapidly growing economy in the world.
Digital transformation is disrupting businesses in every industry by breaking down barriers between people, businesses, and things. Technology is moving faster than ever while also changing the society, and it shows no signs of slowing down. Partners and VARs are the key enablers for taking the growth story of the corporates, by reaching the customers across the country.
India thus presents a unique and an appealing growth story, quickly attracting the attention of the likes of Apple, Alibaba, AWS and Google.
India's IT industry is increasingly focusing on digital opportunities and is expected to grow over 30 per cent annually. 5G connectivity is set to accelerate the deployment of next generation ubiquitous ultra-high broadband infrastructure.
The cloud computing market of India is poised for a huge growth as the technology is increasingly being embraced across businesses as well as consumers. As per a report by NASSCOM, growing adoption of Big Data, analytics, artificial intelligence and Internet of Things is expected to further push the cloud market in India, which will result in it growing 3-fold to USD 7.1 billion by 2022.
India's cyber security market for products and services will grow up to $35 billion in 10 years from the present $4.5 billion. This growth is expected to be driven by the rising number of government initiatives towards digitizing government sector entities and processes, in the areas of healthcare, BFSI, education and other vital sectors of the country.
The January-March quarter of 2019 saw the PC shipment in India falling by 8.3 per cent to 2.15 million units, registering a year-on-year decline for the third consecutive quarter. The market remained fragile due to weak consumer demand, high inventory from previous quarters, and supply issues for Intel chips. However, the PC market in the June 2019 quarter saw shipment of desktop, notebook and workstations grow 49.2 per cent year-on-year to 3.4 million units.
Like every year, VARINDIA has brought out the annual report for the C-suite leaders to better understand the interplay between digital and marketing performance of different vendors. We have created this Channel Leadership Survey (CLS) Business Performance, based on our survey (online/Offline) involving vendors and partners of 500 leading organisations across verticals.
Vendors bullish about India as it emerges as the fastest growing digital market
Juniper Networks has always had a distinguished record as a disruptor and a change leader in the networking industry. The acquisition of Mist Systems and the increased adoption of SD-WAN, Datacenter Networking, Secured Automated Multicloud management, as well as AI-powered WLAN, all of them supported by Juniper's Professional, Advanced & Maintenance services, are some of the areas that Juniper has seen a major traction.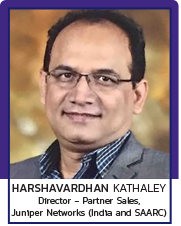 "We believe our recognition as a 2018 & 2019 Leader in Gartner's Magic Quadrant for Data Center Networking is a strong testament to Juniper's value proposition and our customer's confidence in Juniper's technology," says Harshavardhan Kathaley, Director - Partner Sales, Juniper Networks (India and SAARC). "In terms of our recent successes, the Indian and Bangladesh markets have been stellar performers within the subcontinent especially for the Enterprise segment. Strategic, sustained business development alongside our partners have led to major wins, including with large-scale datacenter and campus networking/networking security contracts across the BFSI sector, top IT service provider companies, a large international airport, and even Digital India projects across Education, SDCs, State WANs and even Smart Cities."
FireEye offers real time, continuous threat protection platform to help secure brands, intellectual property and data against today's advanced cyber-attacks. It combines the power of products and people to assist organizations defend and respond to the evolving threat landscape. The acquisition of Verodin, the leader in validating the effectiveness of cyber security controls strengthen the overall offering to the customers and gives high ROI of the existing spend on the security tools and technology.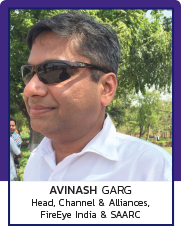 "FireEye's mantra is to focus on improving the customer journey, with advanced and next generation security solutions for malware, zero-days, and persistent threat groups. The FireEye Innovation Cycle was created by product teams embracing our world-class frontline threat expertise and our frontline experts embracing our solutions. We use this innovation cycle to create the most effective cyber defense platform – a seamless, on demand extension of our customers' security operations,"says Avinash Garg, Head, India & SAARC – Strategic Accounts, Channel & Alliances, FireEye. "Financial institutions around the world have adopted the FireEye Adaptive Defense approach as the fastest way to protect their assets. Our technology enables firms of all sizes to detect and defend against exploits and advanced attacks that bypass their traditional security measures."
Interra Information Technologies believes in offering the latest cutting edge NextGen solutions to its clients. Apart from AI, the top services it is currently providing are digital transformation, test automation, cloud services, mobility solutions, product engineering and AMS. It has also signed a number of new customers this year, most of them are based in USA, but there are some in Europe and India.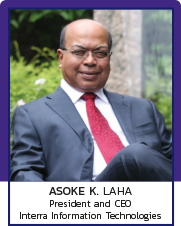 "We strongly believe in the concept of Individualized Corporation. Our key focus has been to hire the right people, who have the attributes of future leaders. We effectively foster a creative and open environment which will lead to innovation automatically. We have been able to create space in the AI solutions domain. We have partnered with AutonomiQ where we do provide AI based test automation services and ML based service management," says Asoke K. Laha, President and CEO, Interra Information Technologies.
SD-WAN offers accelerated connectivity, cost savings, and increased performance for Software-as-a-Service (SaaS) applications. However, organizations are also growing to realize that in order to meet evolving compliance and business requirements, SD-WAN solutions must also provide comprehensive security and management. Fortinet's Secure SD-WAN solution fully integrates security and networking – including routing, SD-WAN, a full security suite, WAN optimization, and integrated management – into a single SD-WAN solution designed to meet the actual demands of the growing WAN Edge market. 
"Fortinet in India continues to exceed market growth rates, demonstrating demand for our product and services and illustrating our ability to drive disciplined cumulative growth year on year continuously for the past 5 years. We have a strong market momentum in India and is well-positioned to achieve higher than industry growth in 2019, driven by business momentum and strong customer demand for our broad, integrated, and automated security solutions across their entire network infrastructure. Fortinet's development centre in Bangalore represents the second largest R&D center for Fortinet globally. India has filed 100 out of the 530 patents that Fortinet has secured in Wi-Fi technology and in areas related to self-healing networks," explainsRajesh Maurya, Regional Vice President, India & SAARC, Fortinet.
Fortinet is also bullish on the India market. With India's largest IT technology distributors Ingram Micro and Redington, supported by a network of 1800 partners and 29,000 customers Fortinet is well-positioned to achieve another year of better than industry growth in 2019, driven by business momentum and strong customer demand for its broad, integrated, and automated security solutions across the entire network infrastructure.
As a combined company, CommScope and ARRIS are well positioned to drive profitable growth in new markets, capitalize on key emerging industry trends and shape the future of wired and wireless communications. Some of the company's key highlights this year have been joint pilot programs with major operators and OEMs in key 5G technologies such as fixed wireless and Massive MIMO (multiple input, multiple output). For the next year and beyond, CommScope will continue to have a focus on collaborating with customers to solve their network challenges.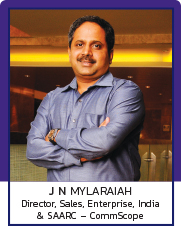 "We have worked closely with our customers, partners and other players in the ecosystem to develop future-proofed solutions that address new industry opportunities, like 5G, and solve business needs in an increasingly network-dependent world," says J N Mylaraiah, Director, Sales, Enterprise, India & SAARC – CommScope. "Some of these include:

•    Introducing new advanced base station antenna technology that offers multiple data streams and additional spectrum to help wireless operators reach Gigabit LTE speeds on the road to 5G

•    Demonstrating the Augmented Reality capabilities of CommScope's imVision® automated infrastructure management solution, allows customers granular visibility into their local area networks and obtain actionable insights."

Citrix strongly believes in offering simplified solutions to transform the way people work. It keeps challenging itself to reimagine the employee experience and deliver a smarter workspace experience by increasing productivity and engagement.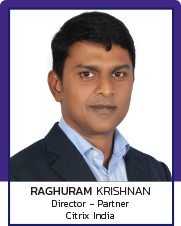 "Citrix Workspace has been a major success for us over the past year. With our Workspace offering, we are making a move beyond virtualization to support businesses. With the evolved nature of work, the digital workspaces from Citrix blend well due to their adaptability, offering employees freedom and security," says Raghuram Krishnan, Director - Partner, Citrix India. "Our success lies in our commitment to drive this experience with an intelligent approach."
The year 2019 has been an iconic journey as Acer expanded its gaming portfolio big way in India with the launch of eight new gaming products in India including Triton 500, Helios 700, Helios 300, Nitro 7, Nitro 5 and Nitro Stream. Acer also launched a 32-inch gaming monitor featuring a full curved 1080p display. Among the multitude of all, Acer's Concept D, and Triton 900 and Aero Blade 3D Technology are currently the most top trending products in India which will be impacting the next upcoming years.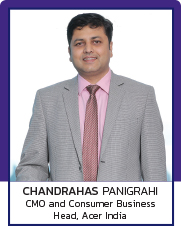 "We believe in building a stronger connection with our users and customers by providing them a flawless experience," says Chandrahas Panigrahi CMO and Consumer Business Head, Acer India. "We know our market and have trust in innovation. Acer has always been a technology player that has introduced the world to newer technology and will continue doing the same.  Acer has successfully retained its spot of being the "No.1 PC Gaming Laptop Brand" in India throughout 2018, as per the IDC report. Besides a whole range of products Acer has focused on IoT and VR and launched mixed reality headsets in India. Acer also organized Asia's largest DOTA2 and PUBG gaming tournament."
In terms of Government achievements in 2019, Acer has bagged $25Million worth project from Tamil Nadu State Government for the implementation of ICT at 6029 schools in Tamil Nadu which includes the supply of 90K Thin clients, 6K+ Servers and 6K+ Projectors. The project incorporates setting up an entire IT infrastructure, including Servers, Thin Clients, Projectors, Printers, UPS, WLAN, Firewall, Web Camera and Internet connectivity in high schools and Higher Secondary Schools put together.
India is a strategic focus area for Adobe globally, both from a business and innovation standpoint. It has seen solid market momentum across verticals including Automobile (MG Motor) Travel & Hospitality (Vistara, SpiceJet, Indigo, Taj Hotels), Telecom (Airtel, Vodafone-Idea), Ecommerce (Flipkart, Myntra-Jabong, MakeMyTrip, Yatra, Tata CLiQ, Nykaa), FSI (HDFC Bank, IDFC Bank, Reliance General Insurance).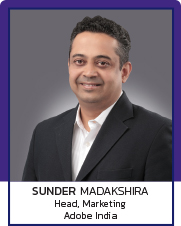 "Adobe's mission is to change the world through digital experiences. Experiences have been at the core of our business since the company's founding. The completion of our acquisition of Marketo, the leader in B2B marketing engagement and Magento, a market leading commerce platform, widened our lead in customer experience management (CXM) across both B2B and B2C in all industries. In terms of financial growth, in FY 2018, Adobe achieved record annual revenue of $9.03 billion, which represents 24% year-over-year growth. Of this, Creative Cloud contributed $5.34 billion, representing a 28% year-over-year growth while Experience Cloud achieved $2.44 billion, representing 20% year-over-year growth," says Sunder Madakshira, Head, Marketing - Adobe India.
"MG Motor is definitely one of our flagship partners in the automobile domain. Adobe Experience Cloud, as a part of our association with MG Motor focuses on reimagining Indian consumers' automotive journey. Another one of our recent interesting partnerships has been with Star TV for Adobe's Creative Cloud offerings. Adobe Creative Cloud gave the channel access to an entire set of tools needed to create videos, including editing, color adjustment, and audio refinement on a single platform," he continues. 
The Belkin brand has always been about its customers. Its mission statement is to keep making "People inspired Products" and it stands by that. Merging with Foxconn Interconnect Technology in the beginning of 2019 was quite an achievement for Belkin as a company and it believes with their involvement Belkin can scale even greater heights, especially in Asia.
"We had success in a lot of our products this year. But there were 2 standout categories that exceeded our expectations: Screen Protection & Wireless Charging," says Kartik Bakshi, Country Manager - India and SAARC, Belkin International. "Modern trade has been an amazing boost to our brands. E-commerce trade, Apple Premium Reseller channel & Large format retail have all been great contributors to our business. We don't like focusing on any one channel as all are equally close to us and have their part to play in our India growth story."
As a leading security solutions provider in India, Prama Hikvision continues to lead its market in the Video Surveillance product segment. It is also expanding its product portfolio in the Smart Home (EZVIZ) and Non- CCTV Product segments like Access Control, Intrusion alarm and Perimeter Security, etc.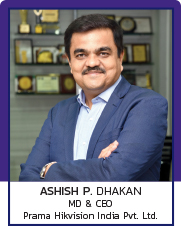 "Hikvision is the most preferred choice for security professionals in the Video Surveillance category," says Ashish P. Dhakan, MD & CEO, Prama Hikvision India Pvt. Ltd. "It's our core competitive edge in the security market and we are experiencing the big surge in demand in the Video Surveillance market. We at Hikvision continue to offer best-in-class products by adding value through variety, quality, service and cost competitiveness. Our organisation has grown consistently by expanding channel network to Tier II and Tier III Cities and towns. The successful implementation of Prama Hikvision's Make-In-India roadmap at the manufacturing facility was our major achievement. Prama Hikvision India has successfully established 17 RMA centers across India to enable RMA processes to support the dealer and distributor network."          
Hitachi Vantara aligns its offerings in the market to address the current state of the organizations and provide them a blueprint to achieve the desired outcomes of digital modernizations. As an example, we would approach a customer with old infrastructure with our offerings around modernization of data center. Similarly, the customers who are seeking value from data use our framework around Intelligent data operations or Data-Driven Solutions. 
"In FY18, we saw triple-digit growth against our Sales targets concerning data analytics (Pentaho) and service offerings (XaaS, professional services, etc). In FY19, we expect to see this trend to continue.  The revamped Hitachi Vantara Partner Program, launched in April 2018, includes new competencies, delivery models, enablement and incentives. Again in October 2018, Hitachi Vantara announced the completion of its acquisition of REAN Cloud LLC. Through this acquisition, Hitachi Vantara gains critical capabilities and industry-leading expertise in cloud migration and modernization, instantly elevating its cloud offering portfolio and managed services capabilities," cites Anupam Nagar, Senior Director - Channels and Alliance, Hitachi Vantara.
Veeam's top achievement in 2018-19 includes introducing Cloud Data Management capabilities as part of Veeam's Availability Suite 9.5 Update 4, a product that gained great traction. To realize the true potential of Veeam's Availability solutions, it continues to engage with channel partners who have been a key contributor to Veeam's success over the past years. Unlike legacy companies whose solutions are more compatible to its own fortified environment, Veeam's software solutions offer flexibility in any environment. That is the edge we bring in the software provider space.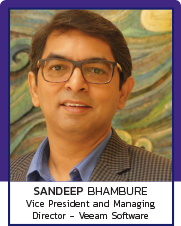 "Additionally, we have adopted a three-pronged GTM approach - the 'three Cs' as our success mantra. This includes establishing an understanding of the Coverage to be made, creating awareness for Community engagement and finding a Champion in every organisation. This is the defining attribute that supports Veeam's strategy in the Indian market across verticals," says Sandeep Bhambure, Vice President and Managing Director - Veeam Software.
Axis Communications sees a huge demand in data centres, city surveillance and critical infrastructure sites and is observing an exponential growth in edge-based recorders/servers. It is noticing growth in educational institutes like schools, universities and other educational facilities. Axis operates on a two-tier channel model with distributors and channel partners being integral part of Axis business.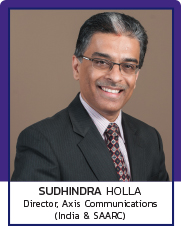 "We work closely with partners to execute and value add to the entire product offerings. We have a robust 'The Axis Channel Partner Program' that is designed to help system integrators, value-added resellers (VARs) and installers accelerate our solution sales. Our complete security solution is easy to install and scalable based on the requirements and eventually reduces the integration costs and maintenance costs in long run," says Sudhindra Holla, Director, Axis Communications, India & SAARC.
Poly is focused on working on technologies that make the modern office positive and productive through easy-to-use huddle rooms, intuitive headsets for personal space, and acoustic innovations for managing voice distraction. Through its technologies, it is addressing the needs of the mobile-first worker.  Some of its top trending products this year have been the Polycom Studio and Polycom Trio 8500.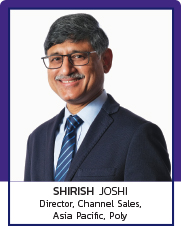 "One of the biggest transitions that happened for us in 2018 was that Plantronics and Polycom came together as one new company - Poly. Poly is uniquely positioned to serve a growing market of enterprise communication and collaboration services (UC&C); our endpoints whether it is headphones, deskphones, video and audio-conferencing solutions play a critical role in modern workspace.  Our portfolio of hardware and software is designed to increase productivity and simplify our customers' and partners' experience," says Shirish Joshi, Director, Channel Sales, Asia Pacific – Poly.
He continues, "At present in India, SMB is a very important segment for us, and we have been growing in higher double digits in this segment over the past few years. W would say that, all our (four) verticals, i.e. SMB, large enterprises, commercial and mid-market contribute equally to our growth in the country."
With 72.17 percent market share, Kingston has been ranked the #1 DRAM module supplier in the world for the 16th consecutive year (DRAMeXchange ranking). The brand takes pride in its best-in-class After-Sales Services with a consistent TAT of 80% and a high customer satisfaction rate. Kingston's forte lies in providing Superior quality, guaranteed compatibility, Reliability, Expertise, Legendary Warranty and exceptional after-sales services.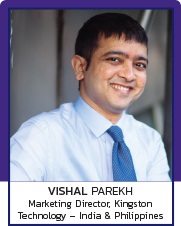 "As a matter of fact, Kingston has seen growth across all product lines. Throughout our journey here, we have been focused on nurturing relations with our channel partners and we are committed to do so going forth.The brand continues to be a top memory manufacturer for many of the OEM and ODMs that produce smart devices. From consumer view, the Kingston A1000 SSD is one of the trending products as it brings the best of '3D NAND' & 'NVMe' technologies," recounts Vishal Parekh, Marketing Director, Kingston Technology & HyperX, APAC Region – India & Philippines.
NVIDIA provides computing capabilities that regular systems cannot do. It has pioneered a supercharged form of computing – GPU computing that is capable of computing at large scales, which meets the needs of enterprises. From virtual reality to artificial intelligence to robotics, NVIDIA's computing platform is at the epicenter of these simultaneous revolutions.It has received tremendous interest in the market for its DGX product family in India that are powerful instruments for advancing world-class AI research and realizing the promise of a new era of computing. The NVIDIA RTX platform is another product that has received great interest in the Indian market.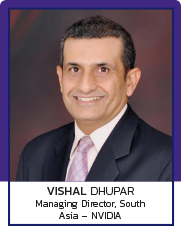 "We continue to add more customers every year," says Vishal Dhupar, Managing Director, South Asia – NVIDIA. "We partner with labs and researchers to apply deep learning and solve India's great challenges. This year we have established a center of excellence in partnership with Central Electronics Engineering Research Institute (CEERI). The NVIDIA Centre of Excellence (CNCoE) will be powered by a five petaflop AI supercomputer. We have also partnered with VJTI College, Mumbai and installed next-generation computing capability at the Technology Business Incubator (TBI). TBI now has an NVIDIA DGX System built on the revolutionary NVIDIA Volta GPU platform." 
Red Hat has grown on a power of collaboration with its partner ecosystem, customers and open source community. It has its core products like Red Hat Enterprise Linux (RHEL) and Red Hat Middleware. Its newer emerging set of products like Red Hat OpenStack, Red Hat OpenShift and Storage are contributing strong growth to Red Hat's cloud enabling technologies. Our latest releases - RHEL 8 and Red Hat OpenShift 4 are focused on hybrid cloud and multi cloud deployments.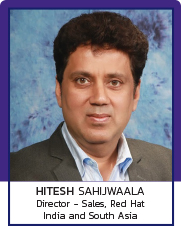 "We aim to work closely with enterprise (large and small), public sector customers, government and their ecosystem and support them in their digital transformation journey," opines Hitesh Sahijwaala, Director - Sales, Red Hat India and South Asia. "We have embarked on a journey with some of the large telcos in building their NFV strategy and readiness for 5G to help them standardize the architecture based on industry standards and providing elasticity to scale infinitely with reduced latency and agility required for building the 5G applications. The banking customers are looking at Red Hat technologies to build the next generating open banking architecture with a vision of digital banking with scalability. The automobile industry is more of a software engine where building applications for connected cars is the next wave of growth."
Vertiv India's business has been good as users are looking for digital continuity solutions that comprise of all its products including single-phase and three-phase UPS systems,thermal management systems, monitoring and management infrastructure, and integrated solutions. For its thermal management and integrated Smart solutions, especially, Vertiv believesit to be a great growth opportunity. 
"Our customers are the focal point of all we do at Vertiv. We take pride in retaining our major customers. Every year, we pursue new accounts and focus on retention after they have been acquired. Yes, we have many new customers this year that operate in the colocation and cloud, government, and IT/ITES verticals," says Vasudevan Rajagopalan – VP, Sales, Vertiv. "We have been able to increase market share by leveraging these strategic partnershipsto grow our channel business. Expanding our reach and offering a broad portfolio of solutions are our major achievements in recent times."
From Big Data to Fast Data to Personal Data, Western Digital offers innovative storage solutions to its customers that best fits their data storage requirements.With a global vision to create environments for data to thrive, it is crucial for Western Digital to offer the best in class solutions to both B2B and B2C consumers.
"In the personal storage segment, Western Digital has seen growing demand for microSD cards, USB flash drives and external storage, primarily because of the proliferation of smartphones and other host devices like PCs, smart TVs etc. We have a complete portfolio of products for personal storage under SanDisk and WD brands. Similarly in the enterprise sector, our primary focus has been on data centre solutions. Our JBOD platform, a high-capacity, enterprise-class solution, has displayed exceptional performance in this segment. Western Digital offers Active Scale object storage system as an ideal solution for archival storage in data centers.We drive segment specific marketing campaigns and go-to market plans for catering to the needs of India market and are very positive about the market growth," says Jaganathan Chelliah, Director, Marketing - Western Digital India.
Salesforce is the global leader in customer relationship management (CRM), bringing companies closer to their customers in the digital age. It believes that it will power more than 2 trillion B2B and B2C transactions this year for more than 150,000 companies and millions of Trailblazers--the individuals and their organizations who are using Salesforce to drive innovation, grow their careers and transform their businesses. As part of its industry strategy, Salesforce this year launched the financial services vertical in India with a focus on delivering new social, mobile and connected cloud solutions for the financial services industry in India.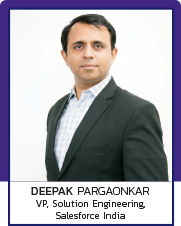 "Our 150,000+ customers from small businesses to FORTUNE 500 companies are growing their businesses on our secure, scalable cloud platform along with our class-leading applications for sales, service, commerce, marketing, and more. Our ambition is that by 2020-22, we will be 20 billion dollars in revenue and by putting our customers first, we've become one of the fastest-growing enterprise software companies of all time," says Deepak Pargaonkar, VP, Solution Engineering, Salesforce India
Salesforce been in India since 2005 and it is one of the fastest growing regions for Salesforce globally. In India, Salesforce works with customers across manufacturing, retail, financial services, IT/ITeS, healthcare, e-commerce and many more sectors. Some of the key customers that it works with in India are the Godrej Group, DTDC, Edelweiss Private Wealth Management, Cleartrip, Jana Small Bank and many more. 
2018 saw D-Link expand its product portfolio by venturing into CCTV and positioning itself as a prominent solution player in the surveillance segment. Today D-Link has an extensive CCTV solution series ranging from 1MP to 8MP cameras, DVR, DVR Enclosures, Power supply, CCTV Cables etc. Further D-Link continues to lead the networking segment in India with its end-to-end networking solution. It holds considerable market share in in passive networking, and D-Link is a prominent player in structured cabling segment.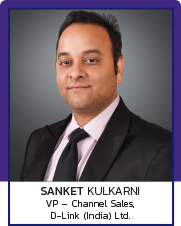 "At D-Link our business is split into two vertical – Consumer/ Channel and Enterprise. We give consumers a comprehensive range of connected home products which work together to create their ideal smart home. Our consumer range is designed to work with certified ecosystems to provide additional support in our products. With our enterprise business we have solutions that can be integrated to satisfy the needs of SMB/ Large enterprise. We have built solutions which can be scaled to suit all sizes of enterprise. Today D-Link end-to-end solution are widely being used across various business verticals like government, education, hospitality etc. We are also working closely with our partners on smart city & Digital India projects across various cities," concludes Sanket Kulkarni, VP – Channel Sales, D-Link (India) Ltd.
SOTI is the world's most trusted provider of mobile and IoT management solutions, with more than 17,000 enterprise customers and millions of devices managed worldwide. SOTI's innovative portfolio of solutions and services provide the tools organizations need to truly mobilize their operations and optimize their mobility investments. SOTI extends secure mobility management to provide an integrated solution to manage and secure all mobile devices and connected peripherals in an organization.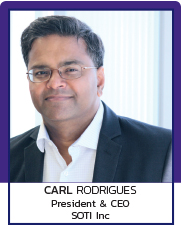 "SOTI continues to demonstrate its industry leadership with strong financials and recorded 97 consecutive quarters of profitability and 35 percent revenue growth in 2019," says Carl Rodrigues, President & CEO | SOTI Inc. "From a work culture perspective, SOTI celebrated its 1000th employee milestone in 2019 and continues to expand globally with new offices in Australia, Sweden, Dubai, and Japan.
The award-winning SOTI Altitude Partner Program offers best-in-class sales support, training programs and marketing tools to help partners grow their business. SOTI's internationally recognized partner program empowers channel partners to create customer-focused solutions that integrate the company's leading-edge technology and deep expertise in managing and enabling advanced mobility and IoT for companies worldwide. SOTI's partner network includes over 4,000 companies that provide joint customer value across vertical industries worldwide. SOTI works closely with leading hardware and software companies to better understand the mobility market, create innovative roadmaps, and bridge the gap between products and solutions. 
As an emerging market, India presents a tremendous opportunity with a strong focus on serving new and existing customers. For SOTI, channel partners are an integral part of the company's sales and support growth strategy and it continues to expand its presence in major business hubs across India."
Solutions protecting data/information around E Mail in general and O365 in particular – Barracuda's Total E Mail Protection (TEP) is finding a lot of traction with customers and partners as both see a value the company brings to them with its bundle which not only secures emails but also helps email available. The other solution is the Public Cloud Security solutions – the CGFW and CGWAF.
"The success mantra for us has been our channel engagement model and also our focus on O365 market," says Murali Urs, Country Manager - Barracuda Networks. "Our major achievements have been big growth we have seen in our TEP business, the growth our share of business with partners, adding enterprise class customers for Email Security, Archiving, CGFW and CGWAF. As Barracuda is a provider of core IT Infrastructure Security we give our partners opportunities cutting across verticals as IT Security is important for every customer across verticals – hence partners find us a great fir into their business to address customers from all verticals and also from SMB to Enterprise. We have signed quiet a lot of new customers and it cuts across verticals – Manufacturing, PSU Enterprises, BFSI – both NBFC and Banks, Federal Govt. entities and of course the IT/ITES vertical."  
This year, ManageEngine has seen its endpoint and IT asset management solutions become the top trending products. The demand for these solutions is due to the RBI mandate for financial institutions and banks to implement IT asset management solutions for audit and compliance purposes.
"We always go by a transparent business model," says Arun Kumar J, Regional Sales Director - Asia Pacific, ManageEngine. "The pricing is there on the website. All of our products offer a full trial. There are no restrictions or limitations for customers during the full trial. We adhere to the concept, "If you like it, go ahead and buy it." We offer full-fledged support at no cost during the trial period. Having a transparent pricing policy on our website has made us successful not only in India, but also across other major markets. Most other IT management software vendors vary their pricing structure on a case-by-case basis to win opportunities. In terms of achievement, a lot of big brands have joined us. The biggest transition we are seeing is the shift from midsize enterprise companies to enterprises; these larger companies see value in our products due to the scalability and stability that we offer."  
While its prime focus is on SSD, DRAM and portable storage product (external SSD), ADATA offers a full product line to cover all categories inclusive of products for general users, gamers, photographer, or industries. Its gaming brand XPG has received a successful response in India and as of 2019, ADATA provides RMA in 7 days in order to ensure better service and create brand reliability amongst customers.
"ADATA is the second-largest manufacturer of SSD and Module in market share worldwide. By the initial half of this year, we have been able to achieve a whopping 500 global media endorsers and over 100 media accolades," says Charles Wei, Country Manager of India – ADATA. "In India, our DRAM technology has been ranked as no. 1 last year. We strive to uphold this legacy this year and maintain are ground in the market. For our gaming brand: XPG, we have been placed 5th in India in 2018, and this year we are targeting to secure the second position. Similarly, the storage products Internal SSD have been ranked as fourth in the country and we are targeting to be third this year."
At present ADATA is focused on made in India initiative. It is working towards adjusting its local distribution channel's quality instead of quantity. ADATA's strategy is also to sign new customer and grow up together with its partners in India. Gaming XPG is a vertical that has seen substantial growth in the last year and it is expecting it to grow immensely.
Tenable announced new Predictive Prioritization capabilities within Tenable.io and Tenable.sc (formerly SecurityCenter), for vulnerability management in the cloud and on premises this year. This ground-breaking innovation enables organizations to dramatically improve their remediation efforts by focusing on the vulnerabilities that are most likely to be exploited in the near future.
"Tenable has also expanded its Cyber Exposure Ecosystem to support a total of 50 integrations and 39 technology partners, enabling partners of all sizes to integrate their solutions with Tenable's open platform to better protect against emerging threats. The Cyber Exposure Ecosystem offers integrated security and IT workflows to provide greater visibility of the attack surface and increase detection and response capabilities," says Diwakar Dayal, Managing Director – Tenable.