Anil Nama
CIO
CtrlS Datacenters
Key Priorities of 2020
The Year 2020 has begun on a different note. Half of humanity is now confined to homes due to global lockdowns. Offices have staff working from home. We too have taken proactive steps to ensure our people are safe. To enable them to work from home we have equipped them with collaborative and productivity tools, ensured they have good quality bandwidth at their place of residence and VPN based access ensuring the access is secure. Our SOC team works round the clock to monitor and mitigate security threats. In terms of technologies our priorities have been security, business continuity, collaboration tools, cloud technologies and managed services.
Combining Breakthrough & Fusion approach
There are several possibilities, one approach is that a company invests in research and development to replace an older technology with a breakthrough approach. The second approach is to combine existing technologies such as mechanical and electronics leading to mechatronics, combining optics and electronics to create optoelectronics, AI and automation in bio technology in the area of gene synthesis etc. leading to technology fusion. According to us, breakthrough approaches may not be sustainable, while fusion technologies have a bright future.
Cyber Security
With 70% of the global population accessing the internet in a form or the other, security has become a key area of focus. The root cause for all security breaches is data. Data such as email, credit/debit card details, patient data, airline passenger data, ecommerce customer data, country citizen data etc. are under major threat. Cyber security is key to protecting data in the online world. Access controls, perimeter security, vulnerability management, compliance are key from an organization point of view. Moreover in a 24X7 online world, security vigil is key to proactively addressing security threats through monitoring, governance, risk assessment and management.
Achieving Digitalization  
Services that eliminate the pain points of customers, help them gain a competitive advantage and will be successful in both short term as well as long term. For example, we have designed World's first Banking Community Cloud and today we power 20 banks across two continents. This was born out of our Cloud R&D – focused on innovation. Likewise, we have enabled the GST services on our platform in the initial stages. Our banking community cloud has powered 5 million Jan Dhan accounts as a part of Pradhan Mantri Jan Dhan Yojana. We have several other such initiatives which support the Digital India initiatives.
"At CtrlS and Cloud4C, we have automated 95% of all our manual processes through RPA to eliminate manual tasks and leveraging AI/ML in other areas. We are providing access to our customers to self-service through both web as well as mobile, where they access the dashboard, get an insight into the infrastructure consumption patterns, order for scaling/de-scaling of resources, obtain billing insights, engage customer support teams instantly- the idea is to deliver customer delight through digital platforms."
---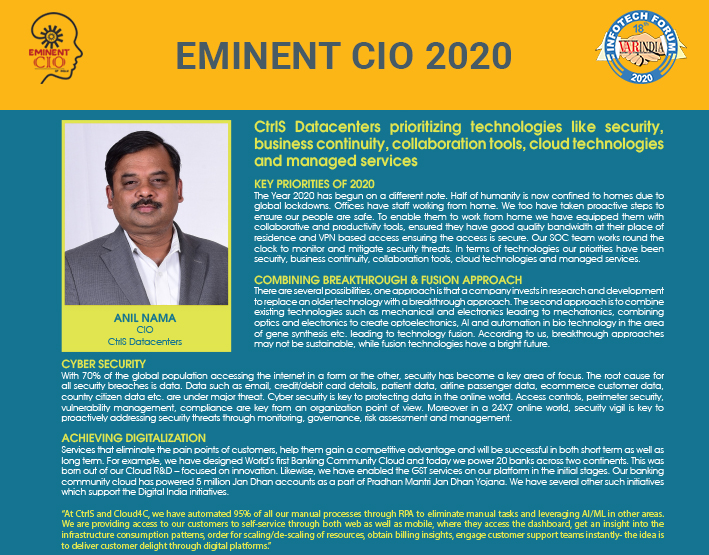 See What's Next in Tech With the Fast Forward Newsletter
Nothing to see here - yet
When they Tweet, their Tweets will show up here.