Dell Technologies prioritizing Channel partner eco-system for FY23 and beyond
Dell Technologies witnesses robust growth in the market  
Tian Beng Ng 
Senior Vice President & General Manager - Channels, Asia Pacific Japan at Dell Technologies
"Dell Technologies has announced its earnings for quarter two, having pretty strong earnings the overall revenue went up by 9%. With a very strong year, we still continue to grow by 9%, which was very exciting. The operating income was up by 4%, gross margin dollar was about flat, opening expenses were a bit low, lower than last year about 3% because of some OpEx sort of actions that we were taking, but you can see year-to-date, capital returns about $2.6 billion. I think overall, a really strong performance in quarter two. We can see last year, we grew CSGe above 20%. You can see off the back of that, again, we grew by 9% year-over-year, operating income was slightly lower. And of course, we all know currency has a pretty big impact in quite many countries, right around the world and, obviously on the consumer side, there was some price aggression happening among the competition.

But overall, a really strong performance on client and 9% growth for ISG which was actually up by 12%, can be seen. It was sort of another new record for us in terms of server and storage growth. It was the sixth consecutive quarter right that we have now grown year-over-year. The operating income for that actually increased 9% and then VMware revenue was up about by 2%. One area for us is sort of improving the possibility of the VMware business. But overall, it was a really strong performance; I think we are really happy about the performance in quarter two.

Our day to day business is like core business and the new what we call growth areas, are the future. We are investing and growing very rapidly. But of course, as the mix of our total business is still relatively small, it is important as it is going to be the future. Many of you will be quite familiar with the PC business, the computer, and networking, which is server networking; the storage business. Currently, we have it in our storage, but in the future the APEX offering will be extended right to the other parts of the portfolio."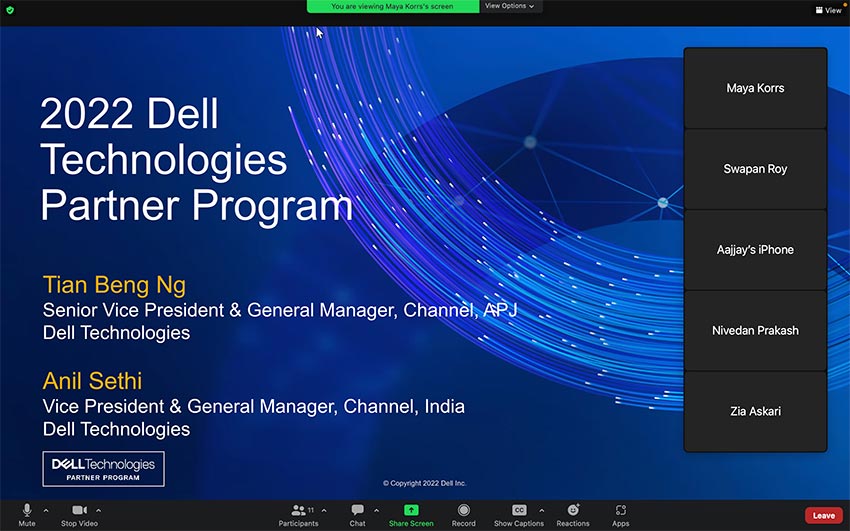 Dell ensures its partner program gets richer everytime   
Anil Sethi 
Vice President & General Manager- Channels India, Dell Technologies
"The last year was fabulous for us, and coming from such a strong base ensures that we can continue the momentum. We have recently concluded a testimony in which we continued to see a growth in the channel business, which was phenomenal by any standard. 30% of our client solutions grew year-on-year, 28% towards the overall revenue for channels, 50% is year-on-year growth on service business, distribution business grew about 28% and storage 10%. Today, channel in India has contributed 45% and we have close to 1,500 odd active partners that transact with us with the transaction volume of 38,000.
It is very important to stay consistent in the market. Everybody evaluates you on an experience that they go through. So we are extremely cognizant about that. And so there are multiple digital offerings that have come in to see that partner experiences are good. So one is OSC, there are different tools where it is a concentrated tool, where people can go and configure storage and server requirements. There is an incentive center launched, talking about all the different kinds of rebates and programs that the partners can participate. It is very important to see how our partner executives and our senior leadership are focused on to see that if there are areas that we need to focus on and see and change, we continue to do that. We are also continuing to bring different programs for our partners in our middle metal tier so there are the skilling programs, how they have to be completely knowledgeable on their product offerings that we have all this done online. So that is another experience that they get into while learning about our products.
The next important thing is winning with the partners. Now this has been super important for us to see that ultimately every part that values your partnership is winning with us. We continue to ensure that our partner program gets richer and richer. I think it is the best part of the program in the industry so far."