Krunal Patel 
Head of Sales, India TeamViewer
"Partners are an integral part of TeamViewer India's go to market in the region. At TeamViewer India, we have designed the partner program to suite the Indian ecosystem which meets the challenges of Indian partners like low cash flow and non-transparent support models. Today we have engagement models which cut across a small single owner business to a global system integrator. TeamViewer solutions is horizontal which is used in the industry by businesses of all sizes and hence we see our partners, resellers and VARs in each size and scale to resell and use our solutions. So, to reach the customer, partners play a very important role. We support our partners not only in sales but also in presales and post sales to keep the customer happy.

 
Channel strategies & policies of TeamViewer

At TeamViewer we onboard, train and engage partners in a very systematic manner. We offer a very low entry criteria which precisely means our partners need not invest anything to begin. We have our channel manager who work with partners to scale their TeamViewer business. We have seen increasing interest in reselling TeamViewer solutions. We also have now four large system integrators signed up to promote together our industry 4.0 market offering. The partners' resources and reach help us service our customers better. We have launched several special incentive programs for our partners other than upfront margin and offer an attractive performance rebate program and sales incentive for lead identification. 
We have created a very engaging and transparent partner program. Benefits to our partners are – 
Additional Revenue with Cross Sell- No major investments
Margin to build a profitable business
Huge Not for Resale discounts up to 40% on all the TeamViewer Products
Presales support from TeamViewer on large value business opportunities
Product training to the presales team – Free of Cost
Huge Partner incentive
Sales incentive program for partner sales team
Market development fund supported by a strong business case."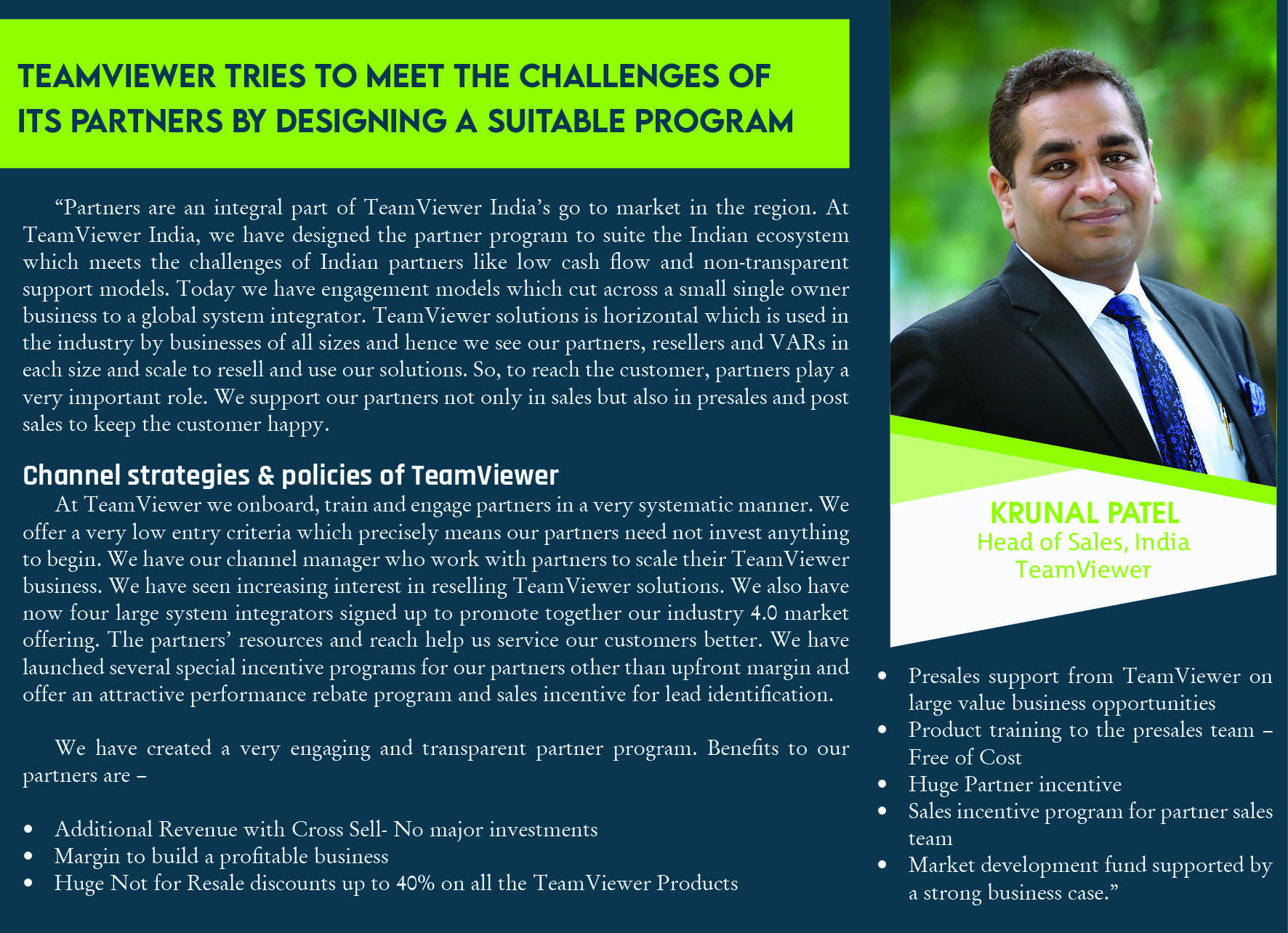 See What's Next in Tech With the Fast Forward Newsletter
Nothing to see here - yet
When they Tweet, their Tweets will show up here.